MACHALO: (mac-hay-lo) for the ultimate in Shade protection, take 1 hot pink bike helmet, secure blazing LED lights to surface, strap on and kick Fae ass!

Karen talks about the MacHalo:
When fictional character MacKayla Lane invented the MacHalo to defend herself from the deadly Shades—a caste of Unseelie that live in darkness and prey on humans—I never imagined the bizarre helmet she designed would explode from the pages of Faefever, and take on a life of its own.


First, you wan
ted to know if it was real. When you found out I'd built it before writing it into the story (I had to know if it worked!) you wanted a picture. Then you wanted a picture of me wearing it, and finally you wanted pictures of yourselves wearing it. How could I refuse?
I packed it up and sent it out to the first fans in January, 2009, and you've been passing it around ever since. It's been spotted in Everett, Portland, Los Angeles, Huntington Beach, San Francisco, Salem, Seattle, Atlanta, Chattanooga, Washington DC, Mechanicsville, Las Vegas, Radcliff, New York, Leavenworth, Cincinnati, Philadelphia, Scotland, and Mexico, and it's rumored to be on the way to Dublin soon!


I can't tell you how fabulously fun it's been for me to see Mac's helmet on...
Marilyn Monroe's grave, worn by a burlesque dancer in NYC, inside exhibits at the Museum of Natural History (you guys have serious balls, LOL) and seeing the Z-Lo (which is Barrons streamlined and—according to him—infinitely superior version) resting on a standing stone in Scotland, or ascending the steps to Dunnottar castle.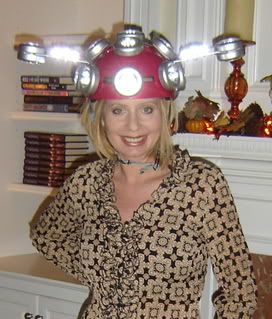 I've been blessed with th
e most wonderful fans! I feel as if I've met so many of you from your photos and emails. During a time in my life when I've not been able to travel much, you've taken me all over the country and beyond, giving me a window to the world through your camera lenses and blogs. Keep them coming! I'm loving it!